A Web Magazine Dedicated To Latin Music and Dance Culture
---
Home, Index, Music, Dance, Places, Events, People, New York, Paris, Clubs, DJs, Contact, Features
Ricardo Lemvo on the Today Show on March 11, 2000.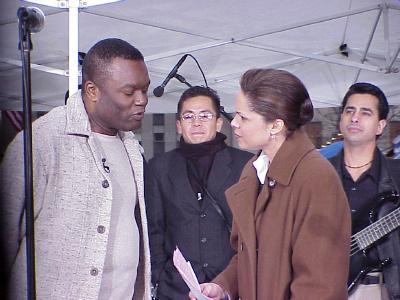 Ricardo Lemvo & Makina Loca played on the Today Show outside on the plaza of Rockafeller Center in a slight rain on March 11, 2000. They are represented by Putumayo World Music of Berkeley California. Putumayo's is located at 1516 5th Street, Suite B, Berkeley, CA 94710. Their phone number is (510) 526-8221 and their fax number is (510) 526-8276. For more information please contact Jane Blumenfeld, Director of Publicity, by phone at extension 106 or via E-mail at jane@putumayo.com. Or check out Putumayo's Web site at www.putumayo.com.

These photographs were taken by J. Fernando Lamadrid. Your feedback is welcome. Enjoy.
Home, Music, Dance, Clubs, Events, Photos, Cities, People, New York, Paris, Features, Culture, Contact, Index
---
justsalsa.com
Contact JustSalsa
Terms of Use
Copyright © justsalsa.com 1999 - 2004 NYC. All Rights Reserved.