A Web Magazine Dedicated To Latin Music and Dance Culture
---
Home, Index, Music, Dance, Places, Events, People, New York, Paris, Clubs, Contact, Features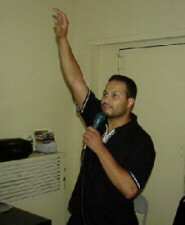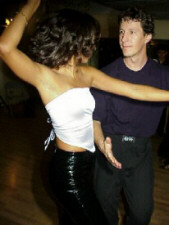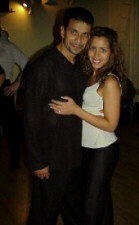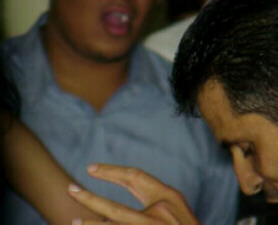 Bernard Martinez's Social Dance in New York City on September 25, 1999.
These photographs were taken at Bernard Martinez's social dance held at Ballroom on Fifth in New York City on September 25, 1999.

The social dance featured the debut dance performance of The Addie-Tude Dancers directed by New York choreographer, instructor, and performer Addie Diaz. Two numbers were danced. The first was a Cha-Cha-Cha. The second dance was a Mambo with solos, and women's and then men's side by side routines.

The social dance also featured a traditional New York birthday dance. It seems like it is always someone's birthday at a social dance.

Many people are attracted to these dances. Beginners and intermediate level dancers can practice and also find partners at their own level. While the real pros pop up around the room like litte lights and dazzle everybody with their unique styles and intricate dance steps as they play, like burlesque performers, with both their partner and the audience.

Admission was $12 all night long and the doors opened at 9:00 PM. The music was provided by DJ Caliente who spun non-stop Salsa to fuel the dancing until 2:00 AM.

Bernard Martinez is a New York area dance instructor. He is available for shows, and group, and private lessons. His telephone number is (212) 726-3090.

These events are co-produced by Ballroom on Fifth Dance Studios and are held at 319 5th Ave., at 32nd Street, 4th Floor, in New York City.

Click Here to see other Bernard Martinez Events covered by justSalsa.com

Photographs by J. Fernando Lamadrid
Please give us your feedback.

To see photographs click on thumbnails below

Home, Music, Dance, Clubs, Events, Photos, Cities, People, New York, Paris, Features, Culture, Contact, Index
---
justsalsa.com
Contact JustSalsa
Terms of Use
Copyright © justsalsa.com 1999 - 2004 NYC. All Rights Reserved.